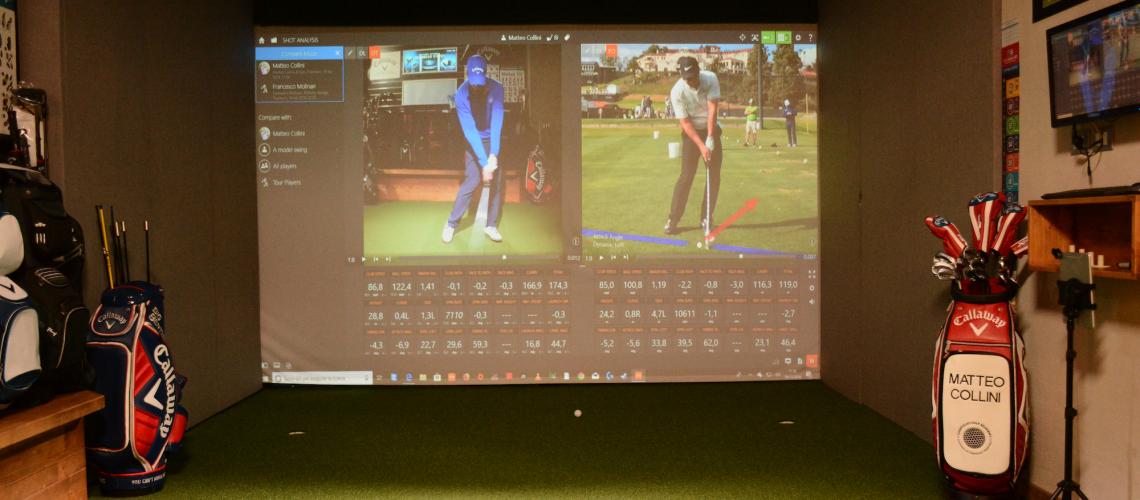 Trackman Performance Software
TPS is known at global golf level as the most sophisticated software of impact and motion analysis both of the ball and of the player.
The best coaches and players in the world ranking use TPS daily, and thanks to the close collaboration with them, it is undoubtedly the best tool to detect and analyze every single swing parameter.
This reality makes TrackMan unrivaled world leader and allows us to measure with absolute precision what until now you could only hypothesize!
It also provides the possibility to access to a database with more than 150 of the best tour players and compare our parameters and videos to theirs.
Thanks to this technology, the laws of ball flying have been rewritten with objectivity and with them the teaching method has completely changed!
Now it is no longer based on the presumption of data, on the contrary, it is based on live measurement. This is the reason why knowledge and learning have exponentially increased!
Below we list the main features of TPS:
LIVE ANALYSIS: every time you make a launch, you see the 27 parameters of impact and ball and club live trajectory.
MULTICAMERA RECORDING: the software automatically captures swing videos (up to 6 cameras) and allows us to compare them with top players and analyze them using 3D graphic.
LIVE CAMERA: gives the player a chance to see himself/herself live so that he/she can have a simultaneous comparison of his own movements.
OPTIMIZER: the maximum potential of each shot is shown on a single screen and with simplicity the real and optimal key values are shown to get the most out of each shot.
TEST CENTER: it gives to the coach the possibility to create ad hoc tests to focus on individual areas of play and create specific training programs.
TRACKMAN COMBINE: it is a standardized test used worldwide to evaluate each player's strengths and weaknesses. By creating your profile, you will join world rankings.
COMPARISON: in addition to the video, this feature allows you to compare the 27 impact and flight parameters of the student to those of a top player.
SHARING: it gives the opportunity to share online on MyTrackMan.com a report with all the parameters of individual launches or launches sequences.
SCREENCAST RECORDING: during the lesson with this function, the coach's voice comments are overregistered to the video screen that you are watching with the student.
PUTTER ANALYSIS: a great NEWS that allows you to capture all the putt parameters associated with the video of each launch.
A new level has been achieved! The latest generation technology simplifies and delivers data that just some years ago were unimaginable. Technology, knowledge and passion are the trademark of Campiglio Golf Academy, we are ready, we are waiting fo you!
Book your Golf session
You can book Golf sessions or lessons both as member and as visitor, by using the link below.
Would you like to join our Academy?
Register in our Academy in order to book and pay directly online your lessons, benefit from the discounts and receive seasonal offers.