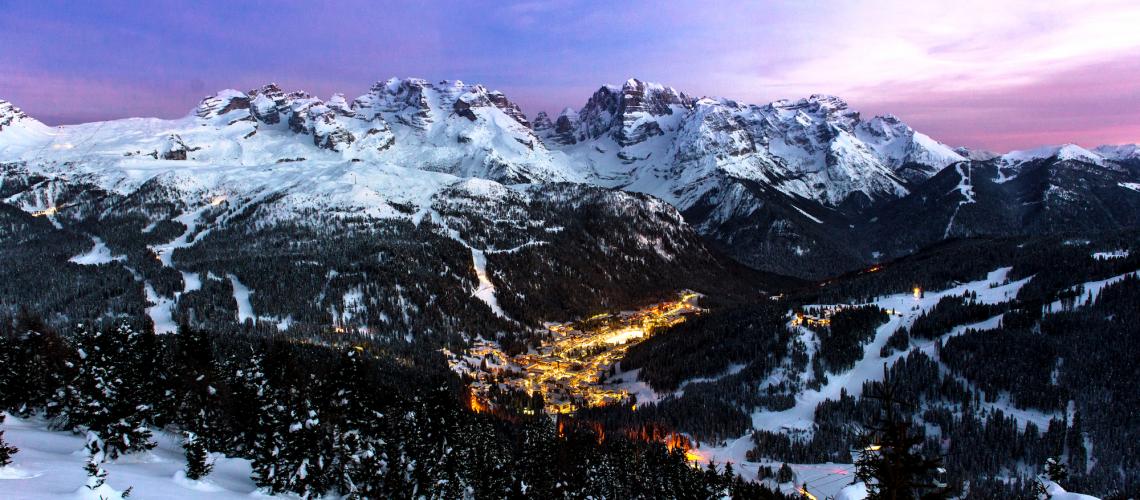 Madonna di Campiglio
Madonna di Campiglio is a fascinating tourist resort, located at 1.550 meters above sea level, in the heart of the Brenta Dolomites. It is an historical destination for many guests in every season, in winter for skiing and in the summer season to enjoy the tranquility and beauty of the naturalistic destinations, suitable for every need. With the nearby resorts of Campo Carlo Magno, Pinzolo and Val Rendena, Campiglio is a complete solution also for the most demanding tourist.
In winter the most practiced sport is alpine skiing. The ski area Campiglio Dolomiti of Brenta boasts 150km of ski slopes. Ski and snowboard lessons, ski mountaineering excursions, snowshoes, ice skating and ice cascades, but also paragliding and other activities fill the days of winter tourists.
In the summer, thanks to warmer temperatures, the guest can enjoy the environment surrounding Campiglio, with its mountain trails and the natural and uncontaminated areas in the Adamello Brenta Natural Park. The offer ranges from simple pedestrian paths, suitable also for elderly men, to more demanding hiking trips, vie ferrate and climbs; in short, the choice is wide and any mountain lover can find its ideal level. In Madonna di Campiglio there are many high mountain shelters where you can stay overnight to enjoy the beauty of dawn and sunset; alpine guides organize hikes during which you can observe flora and fauna of that area. Another activity that is practiced a lot in Val Rendena is mountain biking, thanks to the renowned Dolomiti Brenta Bike tour, a route practiced annually by many enthusiasts who reach Trentino from all over the world.
After a day of sport and natural activity there is nothing better than a healthy relaxation, perhaps pampered by the wellness center of the hotel, and the tasting of a typical dish of the Trentino tradition and a good local wine. In Madonna di Campiglio there are numerous hotels and restaurants that offer a high quality cuisine that can satisfy any palate. One of these is Hotel Crozzon, an excellence of Madonna di Campiglio, which boasts, in addition to a neat environment, excellent cuisine and hospitality; Hotel Crozzon is the seat of Campiglio Golf Academy, which offers the professional golf simulator TrackMan.
These are just a few cues of what a guest can do in the tourist resort of Campiglio, thanks to the professionalism of tourism facilities:
Learn more about what you can do in Madonna di Campiglio by having a look at some of the links we recommend:
- website of Madonna di Campiglio Tourism Board: www.campigliodolomiti.it
- Hotel Crozzon's website, one of the best facilities in Campiglio: www.hotelcrozzon.com
- ski area web site: www.funiviecampiglio.it
Book your Golf session
You can book Golf sessions or lessons both as member and as visitor, by using the link below.
Would you like to join our Academy?
Register in our Academy in order to book and pay directly online your lessons, benefit from the discounts and receive seasonal offers.