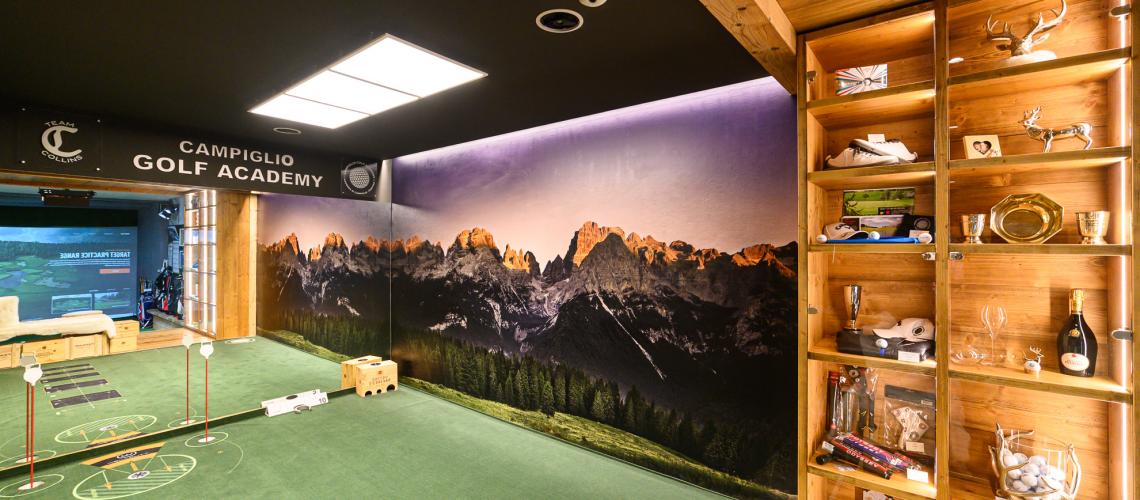 History of Campiglio Golf Academy
Campiglio Golf Academy was born from the great passion for playing and teaching golf of the pro founder Matteo Collini, to offer to the golfers who attend Madonna di Campiglio the opportunity to train and improve themselves 365 days a year.
In the mountains, as well known, accessibility to golf courses depends on the alternation of seasons. In autumn, as soon as the cold season comes, greens are covered with snow. The landscape becomes enchanting and, until now, all of us had to replace the golf bag with a pair of skis and wait for the spring.
From today the golf scenario in Trentino changes radically: thanks to Campiglio Golf Academy you can continue or start playing at any time of the year you wish. With Trackman4 technology and Trugolf software, you will experience a 3D gaming experience in the best golf courses around the world, surrounded by a cozy mountain setting.
Book your Golf session
You can book Golf sessions or lessons both as member and as visitor, by using the link below.
Would you like to join our Academy?
Register in our Academy in order to book and pay directly online your lessons, benefit from the discounts and receive seasonal offers.