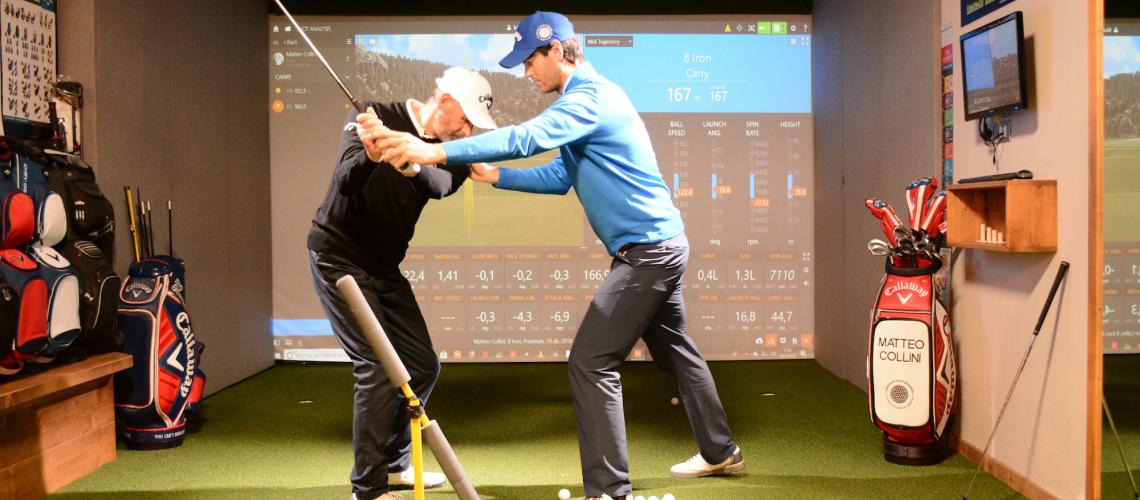 Golf lessons - learn to play
Campiglio Golf Academy is the ideal place to start playing but also to improve your swing in all its aspects. We believe that in golf, as in life, you never end learning. Come and visit us, whether you are newbie or scratch you are welcome! Our structure meets the needs for every level of play:
If you are a beginner and you want to try to make some launches this is the ideal place. Book a lesson and come to visit us, you need just a pair of clean shoes and the wish to learn, we give you the rest!
If you are already a player and you want to improve one or more aspects of your game here you have all the tools you need to unleash your potential! Thanks to the use of Trackman technology, we can measure the 27 parameters that assess the effectiveness of the swing and of the impact. By combining this data with the tools of the Trackman Performance Software, we can analyze the swing in a very thorough way. Video capture of 240 frames per second, supported by a professional Led system, allows us to appreciate every detail of the swing.
Through combined tests, we can accurately assess the level of each sector of your game and create a personalized training program. Furthermore, through custom fitting we will compare your equipment with our materials, equipped with the latest technology. Let you advise and take into consideration whether to buy custom equipment that can make your game easier and funnier.
What are you waiting for? Do not waste time! Book a lesson and/or a custom fitting session and maximize your results, you will be surprised!
Lessons types:
Approaching the game: for the newbies (age> 5) who want to try this wonderful sport. Maximum 5 people/hour.
Introduction to the golf course: for players who, besides the technique, also want to learn the playing strategies on the field. Maximum 4 people.
Technical improvement with video analysis: for players who want to see, analyze and consolidate their swing. Maximum 2 people
Specific improvement: for players wishing to analyze, through various TrackMan tests, their own level in each game sector, to be able to improve it as second step.
Improvement with TrackMan: for the advanced player who wants to know and perfect the 27 personal swing and impact parameters.
Golf Clinic: for those who want to analyze all aspects and parameters of the game through video analysis, TrackMan, practical and strategic game on field.
Custom Fitting: for the player who wants to compare his/her equipment with the latest technologies through TrackMan measurement.
Book your Golf session
You can book Golf sessions or lessons both as member and as visitor, by using the link below.
Would you like to join our Academy?
Register in our Academy in order to book and pay directly online your lessons, benefit from the discounts and receive seasonal offers.