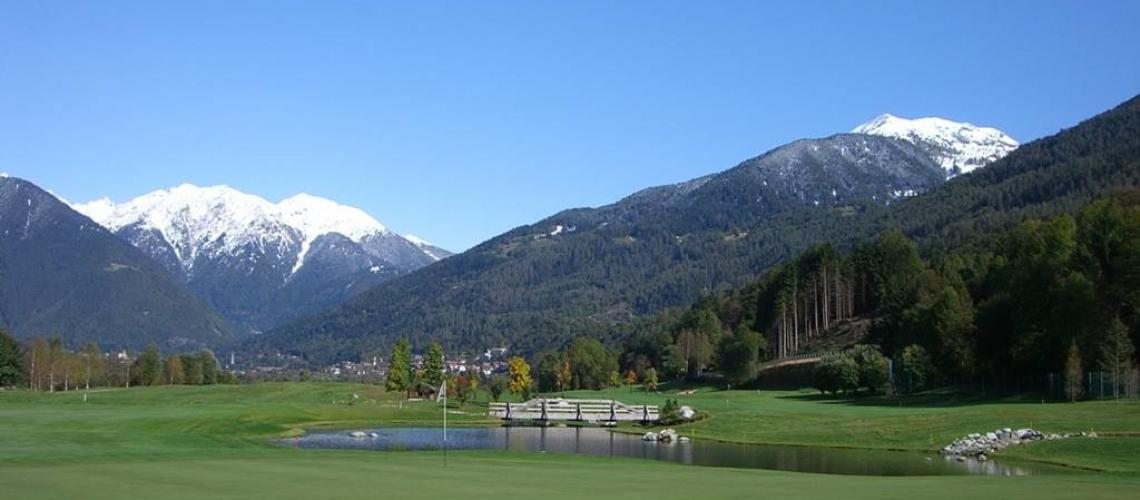 Playing golf in Val Rendena: Golf Campiglio e Rendena
Madonna di Campiglio is a tourist resort surrounded by Brenta Dolomites. It is located in Val Rendena and, together with Campo Carlo Magno, is an attractive center full of interesting proposals for the guest both in winter and in summer season. It is the ideal place to play golf thanks to the two fields in the area: one is at Campo Carlo Magno Pass and the other one is in Bocenago, in Val Rendena. The territory of Madonna di Campiglio and Val Rendena is a naturalistic paradise, perfect for outdoor activities and to alternate golf with hiking, walking or more challenging activities such as climbing, rafting or more.
The Golf Course at Campo Carlo Magno Pass represents the history of golf in Italy: inaugurated in 1921, it is the third camp built in the whole peninsula, and the first, by the sea level, across Europe! The 9-hole golf course today is a beautiful place thanks to the panoramas surrounding it: the Adamello Brenta Nature Park and its Dolomites. Campo Carlo Magno Pass is about 2 km far from Campiglio Golf Academy and its golf simulator, so it is possible to alternate, with extreme comfort, outdoor and indoor golf games according to climatic conditions. Matteo, the Campiglio Golf Academy professional is always available to give golf lessons, on request, at Campo Carlo Magno Golf Courses.
The other golf reality in Val Rendena is the Rendena Golf Club, featuring a 9-hole course in Bocenago, about 15km away from Campiglio Golf Academy and Hotel Crozzon in Madonna di Campiglio. This field was made in 2001 at 738 meters above sea level, with the spectacular summits of the Adamello and the Brenta Dolomites as frame. Golf Club Rendena, the result of the gambling of some enthusiasts, is today the meeting point for many golf fans in both the tourist season and not, with a great success also among golfers in the area.
With the collaboration between Campiglio Golf Academy and these two golfing companies in Trentino today it is possible to play golf all year round. Thanks to the golf simulator available at Hotel Crozzon in Madonna di Campiglio, in fact, you do not have to give up the practice of golf on rainy days or when it is cold.
Campiglio Golf Academy collaborates with the two golf realities of Passo Campo Carlo Magno and Bocenago continuously, since they have the common purpose of spreading golf practice in Val Rendena, especially among the youngest.
Below are listed the technical details of the two golf courses available in Val Rendena:
Campiglio Golf Club:
Path: 9 holes, par 70, 5,148 meters
Facilities: Practical area, Putting Green, Pitchin Green
Services: Restaurant, Bar
Opening: late June - 20 September
Green height: m 1.650 a.s.l.
Website: www.golfcampocarlomagno.it
Golf Club Rendena:
Route: 9 holes, par 70, 5,716 meters
Facilities: Practical area, Putting Green, Pitchin Green
Services: Restaurant, Bar, Pro Shop, Solarium
Opening: April - November
Green Height: m 738 a.s.l.
Website: www.golfrendena.it
Book your Golf session
You can book Golf sessions or lessons both as member and as visitor, by using the link below.
Would you like to join our Academy?
Register in our Academy in order to book and pay directly online your lessons, benefit from the discounts and receive seasonal offers.